Moxifloxacin CAS 151096-09-2
Moxifloxacin CAS 151096-09-2 with the chemical formula C21H24FN3O4, is a fluoroquinolone antibiotic used for its potent antibacterial properties. Its chemical structure consists of carbon, hydrogen, fluorine, nitrogen, and oxygen atoms. Moxifloxacin's specific mechanism of action involves inhibiting bacterial enzymes responsible for DNA replication and repair. This compound's properties make it effective in targeting and eliminating a wide range of bacterial infections.
Moxifloxacin serves as a crucial active pharmaceutical ingredient (API) in the production of antibiotics. With its broad-spectrum activity, it effectively targets and eliminates various bacterial infections. It is commonly used in the treatment of respiratory tract infections, skin and soft tissue infections, and certain sexually transmitted infections. As an API, it plays a vital role in formulating effective medications that combat bacterial infections.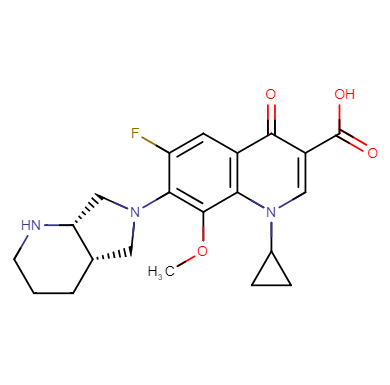 Chemical Name

: Moxifloxacin

Molecular Formula

: C21H24FN3O4

Molecular Weight : 401.4 g/mol

Type : Active Pharmaceutical Ingredients
Buy Moxifloxacin from Bazayan
Thank you for considering Bazayan. We appreciate your interest in our products and assure you of our commitment to providing you with the highest level of service and product quality for Moxifloxacin.
At Bazayan, we understand the importance of maintaining a stable supply chain, and we are dedicated to ensuring the availability of Moxifloxacin CAS 151096-09-2 to meet your specific requirements and timelines.
Customer satisfaction is our top priority, and we strive to establish enduring partnerships built on trust and reliability. Rest assured, we are here to support you and address any inquiries or concerns you may have regarding our product.
Please feel free to contact us for any further assistance or if you require more information about moxifloxacin. Our team is readily available to assist you and provide the necessary guidance.
Enter Buying Requirement Details